LUNCH VISITS / VISITAS DEL ALMUERZO:
Please sign up below to eat lunch with your child 2 days in advance. Only two visitors per student. All visitors will need their identification. Available dates will be visible 14 days in advance.
Visitors are not permitted on campus on testing days. There will be no family lunches on March 8-10 and March 23-24 due to testing. Please see the Parent Newsletter each month for all testing dates.
Favor de firmar abajo para comer almuerto con su hijo/a 2 días antes. Solamente dos visitantes por cada estudiante. Todos los visitantes necesitan su identificación. Las fechas disponibles serán visibles 14 días antes.
Los visitantes no están permitidos en la escuela en los días de examenes. No hay almuerzo de familias el 8-10 de marzo y el 23-24 de marzo por la razón de examenes. Favor de ver el Boletín para padres cada mes para todas las fechas de examenes.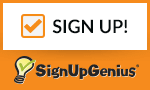 Notice: Please be sure to sign up for the correct lunch time of your child's grade level. Each reservation is for 1 student only during that student's lunch time. Children from other grade levels are not permitted to join during that time.
Aviso: Favor de firmar para la hora correcta del almuerzo del grado de su hijo/a. Cada reservación es solamante para 1 estudiante. No se permiten los hijos/as de otros grados durante ese tiempo.
Sunday
Monday
Tuesday
Wednesday
Thursday
Friday
Saturday
Calendar & Category Legend: